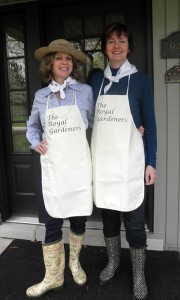 In the Garden has been creating and maintaining lovely, inspiring gardens for more than a decade. We love to work with clients who trust us to create and maintain wonderful, unique outdoor living spaces. We are passionate about creating thriving, healthy gardens.
We have many combined years of expertise in horticulture and principles of site-specific design. We are approved by the MSU and OCC Horticulture programs to work with their interns. We really enjoy working with passionate students and watching them grow along with our gardens.
The Team
Alison Mackinder is the owner of In The Garden. She has more than fifteen years experience in horticulture from soils to plants, from designing to planting and, of course, maintaining lovely gardens. Alison is a graduate of the Horticulture Certification Program at Oakland Community College. With her background of 15 years in appraising, Alison knows the benefits a well designed and maintained landscape adds to a home's value. She combines this knowledge with her design and horticulture education to create environments that are beautiful, inspiring and serene.
Alison listens to her client's needs, considers the problems and will suggest possible solutions that best suit their lifestyles and budgets. It is her absolute joy in gardening that compels her customers to refer her to their close friends, relatives and neighbors. Alison holds long-time memberships with the Perennial Plant Association, the American Horticulture Society, Arboriculture Society of Michigan and is a founding member of the Association of the Professional Gardeners.
Sarah Fahy is a British gardener who has been working in residential gardens for many years. She is a certified Master Gardener here in the U.S., and also a member of England's Royal Horticulture Society in London. As our Head Gardener, Sarah is passionate about maintaining our clients' gardens to the highest standards, and is constantly seeking ways to enhance their landscapes and bring fresh ideas to the gardens.
Dawn Hughes holds a degree in Landscape Horticulture, graduating summa cum laude. She is an Advanced Master Gardener and has contributed over 300 volunteer hours to our community. She is co-founder of the Educational Garden at Commerce Elementary School. Dawn is an I.S.A. Certified Arborist and a C.G.I.P. Michigan Certified Green Industry Professional. She is a licensed and certified Pesticide Applicator, and Dawn is currently the only certified applicator for treating fruit crops in Oakland County, (one of only 44 in Michigan). Dawn is our arborist and plant health care expert.
Beth Matter
Beth is a certified Advanced Master Gardener with more than 15 years of practical landscape design and gardening experience. Beth is a horticulture graduate of Michigan State University. Her many specialties includes site assessment, garden re-design and maintenance. Beth tirelessly shares her gardening knowledge through the Advanced Master Gardener Program volunteer program. Beth's excellent work ethic and attention to detail is reflected in all that she contributes to our client's gardens.
Sally Teague
After a long career in business, Sally is now able to give time to her lifelong passion for gardens, plants and helping people. She is a generous volunteer, a member of the Master Gardener Society, the Meadowbrook Garden Club and the Michigan Hosta Society. We are thrilled to have her spend some time helping us In The Gardens as Sally shares not only our passion for plants but also our commitment for excellent customer service.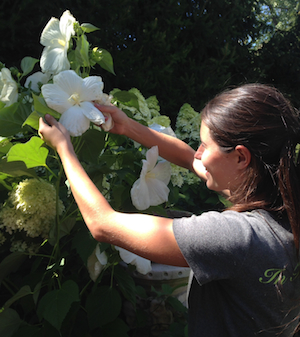 Corinne Tucker
Corinne is our college intern who has a wonderful passion to learn and a no-nonsense, can-do attitude. She she is attending the horticultural program at Michigan State University. Corinne brings her love of the outdoors and the ability to jump in and get the job done. Her commitment to our clients' gardens makes Corinne an invaluable part of our team. Most of our interns are hired from and trained by horticultural programs at local colleges and universities.
Don Molina, Exterior Gardens
When it's time to get the site prepared, install the patio, walk and other landscaping, set the trees and plants in place and lay the mulch; we partner with Don and his skilled team at Exterior Gardens. Don and his crew always focus on maintaining the integrity of the environment in the landscape installation process.
Shelly Lanesky and Jane Corning
Shelly and Jane head our maintenance teams to keep your gardens looking as beautiful as the day they were installed. They have recently graduated the MSU Master Gardening Program.
Shannon Winsted
Shannon is a recent graduate of the horticulture program at OCC. She works with Shelly and Jane on the garden maintenance teams.